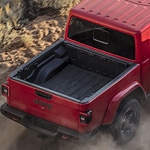 Check these amazing features that will make the 2022 Jeep Gladiator even more capable than before!
-Front axle lock:
The front axle lock will ensure that your wheels have better traction on slippery or uneven surfaces. This will be especially useful for off-road adventures.
-Towing capacity:
The towing capacity of the 2022 Jeep Gladiator has been increased to 7700 pounds. This means that you'll be able to tow more gear with ease.
-Payload capacity: